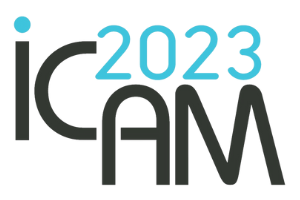 THE ISRAELI CONFERENCE ON ADDITIVE MANUFACTURING:
Research To Applications
Monday | March 13, 2023 | Kfar Maccabiah – Israel
Dear Friends and Colleagues,
It gives us great pleasure to invite you to AEAI ICAM 2023, the Israeli Conference on Additive Manufacturing, organized by the Association of Engineers, Architects and Graduates in Technological Sciences in Israel (AEAI).
AEAI ICAM 2023 aims to bring together engineers, scientists, regulators, and clinicians from industry, academia, and government to present leading-edge research and current applications regarding advancements in the Additive Manufacturing arena.
This one-day event will cover a wide array of topics related to polymer, metal, ceramic, and other materials, with an emphasis on aerospace, R&D, medical, defense, and general industry applications, among others.
The conference and exhibition will include high-level plenary talks, keynote lectures, and oral/poster presentations covering the latest research and innovations in the 3D and 4D printing fields.
We cordially invite our professional colleagues in the AM community, from industry, academia, and government agencies, to attend AEAI ICAM 2023. We are confident that this event will offer exciting research and business opportunities to all participants.
Chairpersons:
Prof. Stern Adin, Standards Institution of Israel & Afeka | Dr. Tiferet Eitan, NRCN & AEAI Additive Manufacturing Branch Chairman
Co-Chair:
Dr. Shirizly Amnon, Rafael
Steering Committee:
Dr. Ashkenazi Dana, Tel-Aviv University | Dr. Ben-hamu Guy, SCE | Dr. Diskin Alex, IAI | Mr. Dolev Ohad, Tritone | Mr. Dror Amit, Nano Dimension| Mr. Fishman Dima, IDF | Mr. Fridman Amos, Aran | Dr. Katarivas Levy Galit, Ben-Gurion University | Mr. Khelif Lionel, G2Metric Israel |  Prof. Magdassi Shlomo, Hebrew University of Jerusalem | Prof. Naveh Naum, Shenkar | Dr. Raveh Avi, Ministry of Innovation, Science and Technology | Mr. Safranchik Dani, Technion – Israel Institute of Materials Manufacturing Technologies | Dr. Sheffer Nadav, Afeka | Mr. Yair Sharon, Sharon Tuvia | Dr. Zonder Lior, Stratasys